Tixs for Kids Videos
Catch Tixs for Kids in action!
And here's a playlist of more videos.
Kids Helping Kids
Tixs for Kids, Eagle 98 and Wal-Mart joined forces to raise school supplies for kids whose parents couldn't afford them. These supplies went to Lowell Elementary, Eugene Field Elementary, John Adams Middle School, and Old Town Elementary Schools. School supplies also were given to kids evacuated from the Katrina disaster who are going to school locally. Kids from Alvarado Elementary helped us sort through the many school supplies that were donated. There is nothing more precious than Kids helping Kids!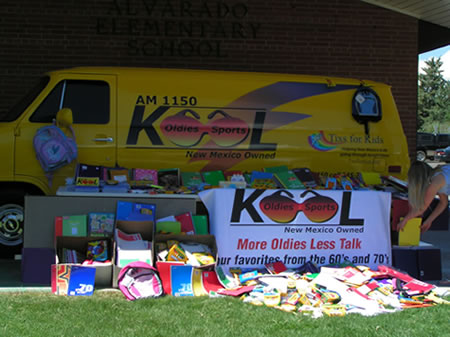 A Note From John Aragon
Tixs for Kids has come a long way in a short time. It continues to amaze me how many kids there are that are going through hard times. Whether it's physical, emotional, or financial reasons there are many kids that could use something happy to smile about in their life. With your help we will continue to do whatever we can for these kids.